Manufacturing Concierge Program
Manufacturing Concierge Program
Service Information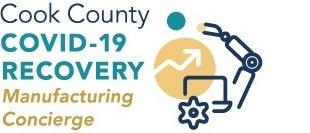 Urgent Needs for Manufacturers
With the onset of the COVID-19 pandemic, Cook County partnered with the Illinois Manufacturing Excellence Center (IMEC) to conduct a historic outreach and census of suburban Cook manufacturers to ascertain the impact of the pandemic on their business. Over 1,000 manufacturers were surveyed to better understand their most urgent needs.
Findings from the survey show manufacturers' needs are far more based on the size of operation than on location or manufacturing sub-sector; with 'create growth opportunities' rising to the #1 priority among 69% of respondents.
About our Manufacturing work
Manufacturing plays a central role in our region's economy. In fact, the Chicago region – and suburban Cook County – remains one of the largest metals manufacturing regions in the nation in terms of both employment and output. Recognizing the challenges that COVID-19 has created for manufacturing, Cook County established the Cook County COVID-19 Recovery Manufacturing Concierge program to assist manufacturers during this challenging time.
With this deeper understanding of the varying needs of our manufactures of all sizes, Cook County and IMEC will work together to develop a roadmap to support our impacted manufacturing community. This survey and resulting report serve as a beginning to regularly gain insights into manufacturer needs, create policy solutions, and craft programs and services to strengthen manufacturing in one of the largest manufacturing counties in the nation.  Stay tuned!
For more information, contact Christine Nappo
Join our network
Cook County leads the Chicago Metro Metal Consortium, belongs to a national network of manufacturing communities and works closely with its partners to leverage resources for supporting manufacturers.
Chicago Metro Metal Consortium offers manufacturers resources to grow their businesses through collaboration and networking, market intelligence, and promotion of the region as a leading center for manufacturing. Recognizing the challenges that COVID-19 creates for manufacturing, Cook County created the Cook County COVID-19 Recovery Manufacturing Concierge program to assist manufacturers during this challenging time. 
If you are a manufacturer in one of the seven counties of northeastern Illinois (Cook, DuPage, Kane, Kendall, Lake, McHenry, and Will, including the City of Chicago), our network can provide:
Access to talent solutions
Opportunities to diversity your supply chain
Resources to grow your business
Developing the future of the Manufacturing Workforce
Cook County Bureau of Economic Development offers talent solutions to businesses to attract, retain, and retrain employees. Cook County, selected by the State of Illinois, serves as an Apprenticeship Navigator for the 10 counties of the Chicago metro area will assist and educate employers about apprenticeships. 
For more information, contact: Kindy Kruller
Our Partners