Electric Vehicles
Service Information
Cook County's Electric Vehicle Charging Stations Program Reduces Charging Deserts
Cook County is launching an initiative to address electric vehicle (EV) charging deserts throughout the County's suburban communities. 
An EV is any vehicle that can drive on electricity derived from a power plug.  
An all-electric vehicle (sometimes called a battery electric vehicle or BEV) is powered by an electric motor that uses energy stored in a battery. A BEV drives solely on power from the plug.  

A plug-in hybrid electric vehicle (PHEV) uses electricity from plugging in as well as gasoline. 

EVs use regenerative braking which takes wasted energy from the process of slowing the vehicle to recharge the vehicle's battery. 
Ways to Charge an EV
According to the U.S. Department of Energy (DOE), 80% of people with electric vehicles charge their vehicles at home.  
You can charge your electric car using standard 120 volt(V) home outlets (Level 1), 208-240V outlets like those used by your dryer (Level 2) or dedicated 480V+ public fast chargers (DC Fast Charging). 
How long it takes to charge your vehicle depends on the power level of your charger as well as your vehicle's battery.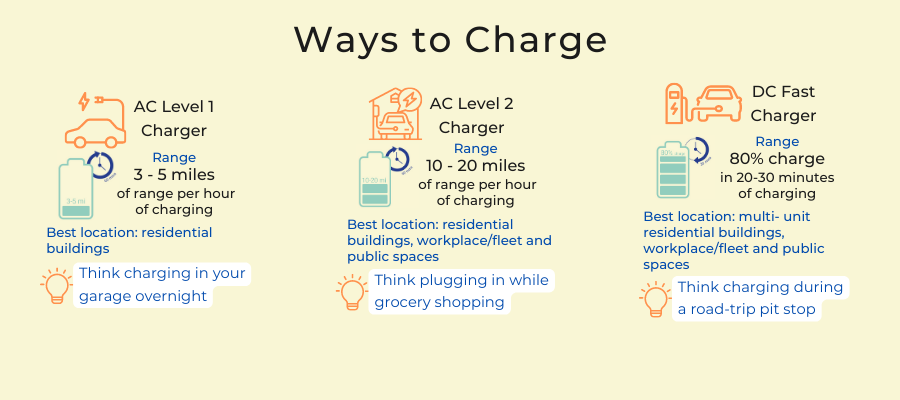 Public Charging Stations
There are 600 public charging stations within the City of Chicago. Below are some examples of maps that can help you locate public charging stations: 
The following resources offer additional information regarding EVs:
---
This program will increase the number and access to public EV charging stations throughout Cook County, directly addressing a barrier to growth in the EV market. Increasing the number of EV charging stations ultimately reduces greenhouse gas emissions, provides valuable infrastructure as transition from gas- and diesel-powered vehicles occurs and benefits future regional infrastructure planning efforts. 
This program will install public charging stations in suburban areas where there are currently large gaps in service, or charging deserts, primarily in the south and west suburbs of Cook County. 
There are already large gaps in access to EV charging stations throughout the suburbs of Cook County.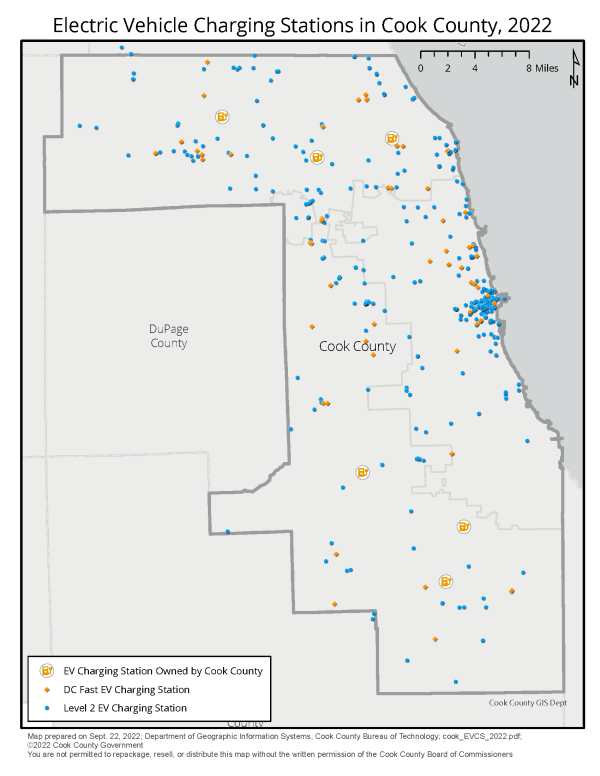 The charging deserts that currently exist are often in Black and Latine communities where there is already a disproportionate exposure to air pollution. Increasing access to charging stations will improve air quality and improve access to EVs, making an EV a more feasible option for a larger number of County residents. EVs are a more affordable vehicle option in comparison to a gas-powered vehicle when looking at the costs over the lifetime of the vehicle.  
Future Charging Station Locations
A goal of this program is to support communities where it is currently more difficult to charge an EV. Some of the barriers to charging include having fewer financial resources to install chargers and having less control over charging at home because of renting or living at a multifamily dwelling unit where charging options could be limited. Because of these barriers, the priority communities for these public charging stations are: 
under-resourced communities 
areas with a higher density of renter-occupied housing 

areas with a higher amount of multifamily dwelling units  
Program Timeline 
The Cook County Department of Environment and Sustainability and Bureau of Asset Management will work with municipalities, organizations and businesses to install these public charging stations throughout 2023-2024 after a robust community engagement process.  
Questions
Email questions to EVcharging@cookcountyil.gov