Justice Advisory Council Reentry Services
Justice Advisory Council Reentry Services
Service Information
Reentry Services Overview
The Justice Advisory Council (JAC) works to identify gaps and areas of need within the justice system that could be addressed through programs or services. The JAC explores policy or programmatic solutions and directly coordinates reentry initiatives and connections to reentry services. This work supports the goals of safely reducing pretrial detention rates and improving conditions and outcomes for justice system involved individuals and returning residents.
To remain informed about JAC reentry initiatives and services, please subscribe for updates from the Justice Advisory Council.
Initiatives

Cook County Reconnect: Rental Assistance and Services for Returning Residents
Cook County has allocated $23 million in American Rescue Plan Act funding for a reentry initiative launched in 2023, managed by the Justice Advisory Council and the Housing Authority of Cook County. Cook County Reconnect provides rental assistance and services for eligible residents returning from incarceration to communities in Cook County.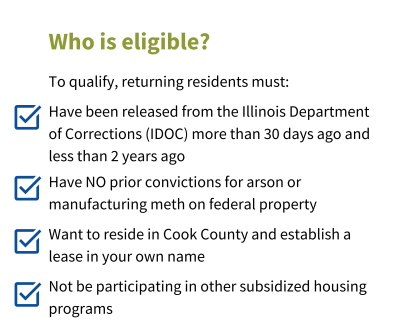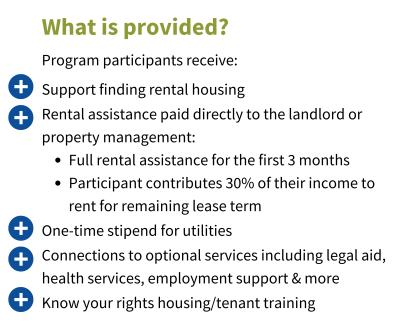 Learn More: Download the Cook County Reconnect Program Overview
Contact: E-mail JAC.Reentry@CookCountyIL.gov
Important Disclaimers:
Referral to Cook County Reconnect does not guarantee enrollment. Enrollment in the program does not guarantee housing.
Cook County Reconnect is not an immediate housing placement. Reconnect is for individuals who need support establishing a lease and/or financial assistance for rent.
Cook County Reconnect is a time-limited program that will end in November 2026.