Cook County Medical Debt Relief Initiative Abolishes Nearly $80 Million in Medical Debt for Cook County Residents
Over 72k Recipients Receive Letters of Debt Abolishment in First Round of the Initiative
Today, Cook County Board President Toni Preckwinkle announced that Cook County's Medical Debt Relief Initiative (MDRI) has successfully acquired and will erase $79.2 million  in medical debt to benefit 72,989 Cook County residents. Already over $25 million worth of medical debt for 45,000 county residents has been abolished with the rest of that nearly $80 million being abolished in the following weeks (and more debt relief soon thereafter). This announcement represents the first round of debt abolishment through the initiative that has the potential to abolish $1 billion in medical debt. The program leverages $12 million in American Rescue Plan Act (ARPA) funds and is being implemented in partnership with national nonprofit RIP Medical Debt.
"I am thrilled to announce that Cook County's Medical Debt Relief Initiative has already acquired and will erase nearly $80 million in medical debt for our residents in this first round of debt abolishment," said President Preckwinkle. "This innovative initiative demonstrates our commitment to making healthcare accessible to all and supporting our most vulnerable families. Medical debt is a social determinant of health that can undermine people's physical and mental wellbeing by creating stress and preventing necessary follow-up visits. We are proud of what we have achieved together so far, and thanks to President Biden and funds provided by the American Rescue Plan Act, we look forward to providing debt relief for hundreds of thousands more of our Cook County residents."
Beneficiaries of the program have shared:
"I truly appreciate this and thank you for all for this forgiveness! I've been looking at my credit report saying, Lord how? How will I pay this off?... I truly thank you from the bottom of my heart. Home ownership is looking better for me and my family." - S.B.
"Thank you so much. I had lost my job at the time that I received this medical attention. Last year I lost my husband. Very difficult times. Any and all help is very much appreciated." - Pauline
"Thank you. I greatly appreciate the people who work with RIP Medical Debt. Not only for helping me but for helping so many other people that are in need of help, burdened with what can be sometimes huge amounts of medical debt." - Hector
Cook County is partnering with RIP Medical Debt, a national, independent 501(c)(3) charitable organization. Through the partnership, RIP Medical Debt contacts hospitals and health systems serving Cook County and negotiates the sale or donation of portfolios of medical debt. This allows MDRI to cancel debts for Cook County residents who qualify based on financial hardship and other criteria. Any hospital or physician group that serves Cook County is encouraged to participate in the MDRI program and provide qualifying medical debt for abolishment. 
"Cook County deserves a lot of credit for pioneering this creative program: leveraging ARPA funds for medical debt erasure and uplifting those most financially burdened in the community," said Allison Sesso, president and CEO of RIP Medical Debt. "Medical debt is the leading cause of bankruptcy and undermines health in myriad ways; it's our pleasure to make this debt relief possible. No one should choose between putting food on the table or keeping themselves and their family healthy."
Individuals who qualify for medical debt abolishment through MDRI must live in Cook County, have incomes up to 400 percent of the current Federal Poverty Guidelines (FPG), or have medical debt that is 5% or more of their annual income. Medical debt abolishment cannot be requested by an individual. Those eligible with debts in the portfolios RIP is able to acquire from local healthcare providers will have debt erased without taking any action. Recipients are notified by mail that their debts have been relieved, and any negative marks on their credit reports are removed. Because medical debt is purchased in bundled portfolios for a fraction of its face value, one dollar on average abolishes $100 of medical debt.
"Too often the financial burden of healthcare hits those who need it the most, preventing them from seeking care when they're sick. As a physician-owned and led partnership, Vituity is dedicated to the health of our patients and communities which includes partnering to support medical debt relief," said Gregg Miller, MD, Chief Medical Officer, Vituity. "We applaud Cook County for taking the bold step of abolishing medical debt in partnership with RIP Medical Debt and local care providers, helping relieve an economic hardship on its  ."
"Accessibility to quality healthcare is an antidote for collective community wellness, but medical debt can drain a family's resources - delaying treatment and recovery," said Tesa Anewishki, President and CEO of Loretto Hospital.  "This initiative makes the patient's health a priority by removing barriers to access and restoring healthcare dignity to families in need."
"Financial insecurity such as that caused by medical debt is a significant social determinant of health that disproportionately impacts people of color, making them less likely to seek the care they need due to concerns about cost," said Dr. Ngozi Ezike, President and CEO of Sinai Chicago. "At Sinai, we're committed to addressing the social determinants of health which cause our communities on the West and South sides to face disproportionate shares of chronic illness and economic distress. Removing medical debt not only addresses inequity by removing that barrier to care, it also drives better health outcomes in our most challenged communities. If we truly care about equity, then we need to be holistic in identifying the various challenges that people are facing."
"AdventHealth welcomes the opportunity to partner with Cook County and RIP," said Thor Thordarson, president and chief executive officer of AdventHealth, Great Lakes Region. "As a faith-based organization, we are committed to addressing community health needs through programs that provide measurable community benefits. This initiative allows us to take meaningful action to address one of the most critical needs in our communities – medical debt relief. It aligns with our mission-driven efforts to ensure access to high-quality care for everyone, especially those most in need. For us, it's just the right thing to do."
Medical debt is a growing problem in the United States and Cook County. Nationally, there are over 100 million adults with medical debt totaling an estimated $195 billion. In Cook County, over 14% of households hold some form of medical debt. Moreover, people of color are disproportionately impacted by medical debt - Black adults are 50 percent more likely and Hispanic adults are 35 percent more likely to hold medical debt compared to white residents nationally.
See below for a list of the top 10 impacted zipcodes (heat map available upon request):
| | | | |
| --- | --- | --- | --- |
| Zipcode | Individuals | # of Accounts | Debt Balance |
| 60629 | 5,614 | 6,640 | $14,804,817.46 |
| 60632 | 3,161 | 3,875 | $6,901,809.91 |
| 60623 | 3,255 | 4,094 | $6,807,152.82 |
| 60804 | 6,445 | 10,129 | $5,915,628.11 |
| 60608 | 1,550 | 1,889 | $5,455,844.28 |
| 60636 | 1,794 | 1,991 | $4,797,909.98 |
| 60609 | 1,262 | 1,507 | $3,429,993.66 |
| 60620 | 1,563 | 1,753 | $3,362,463.19 |
| 60402 | 4,261 | 6,924 | $3,210,881.36 |
| 60624 | 1,164 | 1,384 | $2,392,298.16  |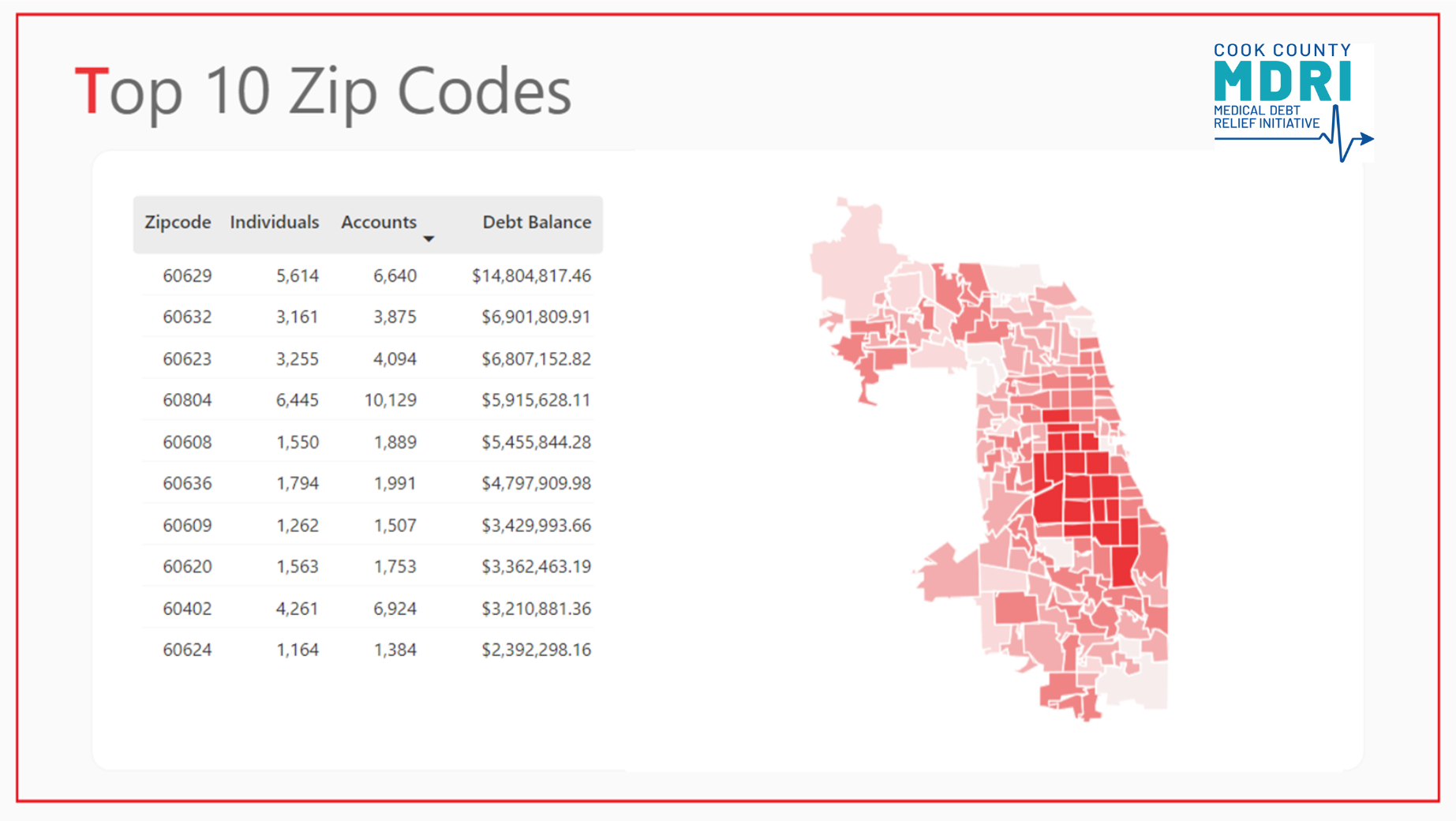 Media Contact
Nick Mathiowdis, Press Secretary, Office of the President
Daniel Lempert, Vice President, Communications, RIP Medical Debt