United Way of Metro Chicago and Cook County's "Transforming Places" Partnership Expands Equitable Investment in the Southland
Image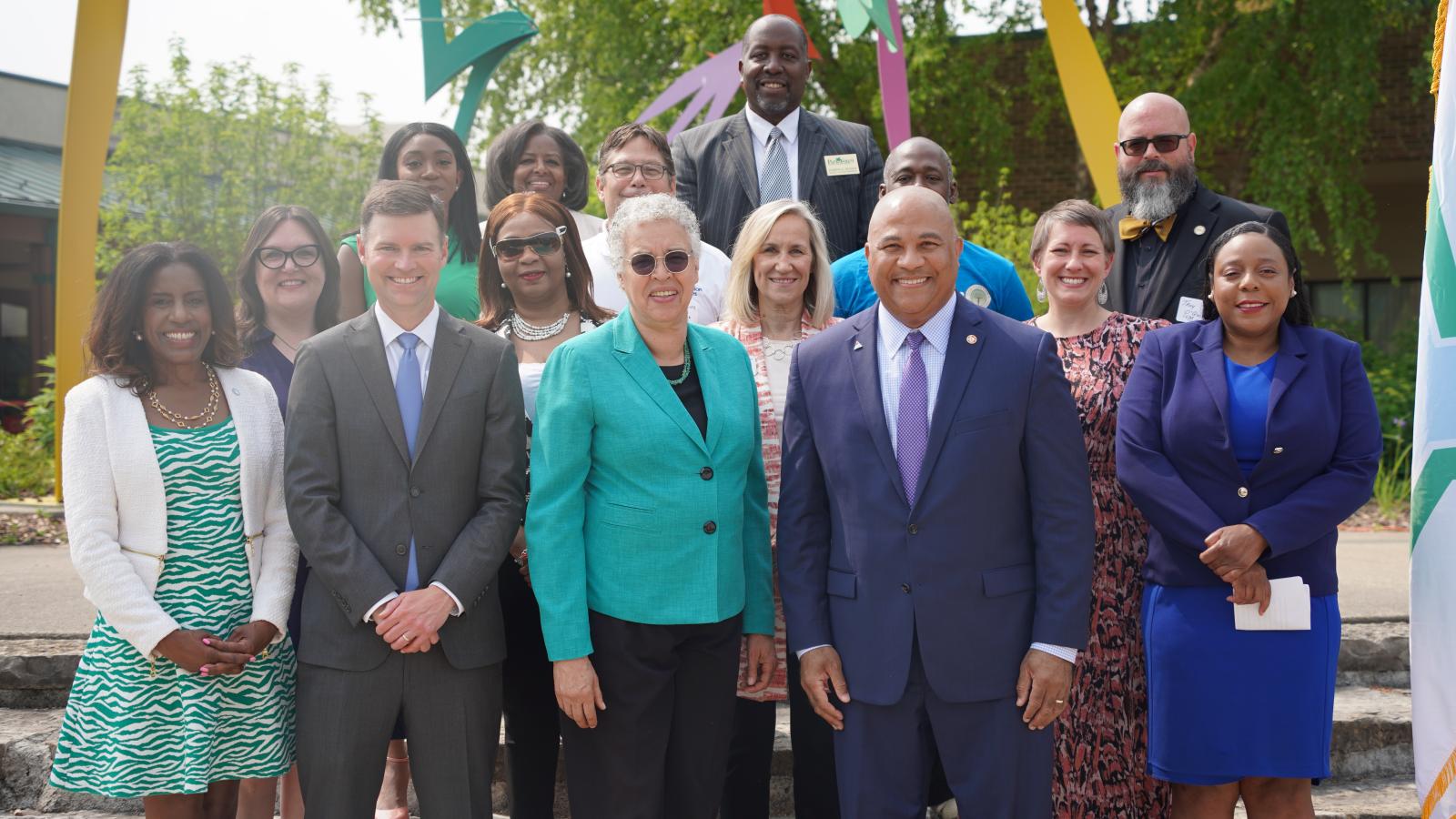 The partnership, with cross-sector investment from the Nicor Gas Foundation, supports place-based transformation through new and increased investment in suburban Neighborhood Networks
United Way of United Way of Metro Chicago, in partnership with Cook County and with support from the Nicor Gas Foundation, has announced the expansion of its Neighborhood Network Initiative in Ford Heights/Chicago Heights, Harvey and Park Forest/Richton Park, plus an increased investment in the existing Blue Island/Robbins Neighborhood Network. Over the next three years, the Neighborhood Network coalitions will develop and implement visions to improve the quality of life for residents that have faced systemic disinvestment in their communities.
"This partnership is more than an expansion of our Neighborhood Network Initiative in suburban Cook County. It is an example of how partners from government, nonprofit, business and the community can learn from each other to improve systems, strengthen economic development and build thriving communities," said United Way of Metro Chicago President and CEO Sean Garrett. "United Way of Metro Chicago is thrilled to be a part of this cross-sector partnership with Cook County, Nicor Gas and our nonprofit agency partners to support resident-led transformation in the Southland."
The expansion of United Way's Neighborhood Network Initiative is supported by Cook County, as part of their $15 million investment in the Transforming Places Program. This is the first project resulting from the Cook County Equity Fund's recommendation to pursue place-based, community-driven and sustainable economic development.
"This investment through Cook County's Equity Fund demonstrates our commitment to create more inclusive, sustainable, responsive and vital communities," said Cook County Board President Toni Preckwinkle. "Empowering and building up communities that have been historically left behind will require sustained, catalytic investments in people, businesses and local infrastructure. The Transforming Places Pilot represents our comprehensive, equitable approach to investment in underserved Cook County communities."
As a leading supporter of community-driven efforts, United Way launched its Neighborhood Network Initiative in 2013 as an "inside-out," place-based approach to neighborhood transformation. A decade later, this community-led strategy has gained momentum and garnered millions of dollars in support from corporate and philanthropic partners, including the Nicor Gas Foundation. The expansion of the Neighborhood Network Initiative in the Southland is being supported by the Nicor Gas Foundation as part of their $1 million leadership gift to United Way of Metro Chicago.
"The Nicor Gas Foundation is honored to join United Way of Metro Chicago, Cook County and our community partners on this transformative investment in the Southland," said Nicor Gas President and CEO Wendell Dallas. "We are committed to equitably supporting economic development and building a workforce pipeline across south suburban Cook County to help create stable households and stable communities."
Each Neighborhood Network is led by a "community quarterback," an established agency that brings together a coalition of organizations, local leaders and resources to develop a community vision and execute plans to address a variety of issues, including affordable housing, cradle-to-career education, family wrap-around services, economic development, business ownership and arts and culture.
The community quarterbacks for the new Neighborhood Networks are Cornerstone Community Development Corporation in Ford Heights/Chicago Heights; Restoration Ministries and the Community and Economic Development Association of Cook County, Inc. (CEDA) in Harvey; and OAI, Inc. in Park Forest/Richton Park. Metropolitan Family Services will continue to serve as the community quarterback for the Blue Island/Robbins Neighborhood Network.
With the addition of the three new Neighborhood Networks in the Southland, United Way's Neighborhood Networks now reach 17 communities: Auburn Gresham, Austin, Blue Island/Robbins, Brighton Park, Bronzeville, Cicero, Elgin, Englewood, Evanston, Far South, Ford Heights/Chicago Heights, Garfield Park, Harvey, Little Village, Park Forest/Richton Park, South Chicago and West Chicago. To learn more about United Way's neighborhood work, visit LIVEUNITEDchicago.org/neighborhood-networks.