ARPA Sustainability Initiatives
ARPA Sustainability Initiatives
Service Information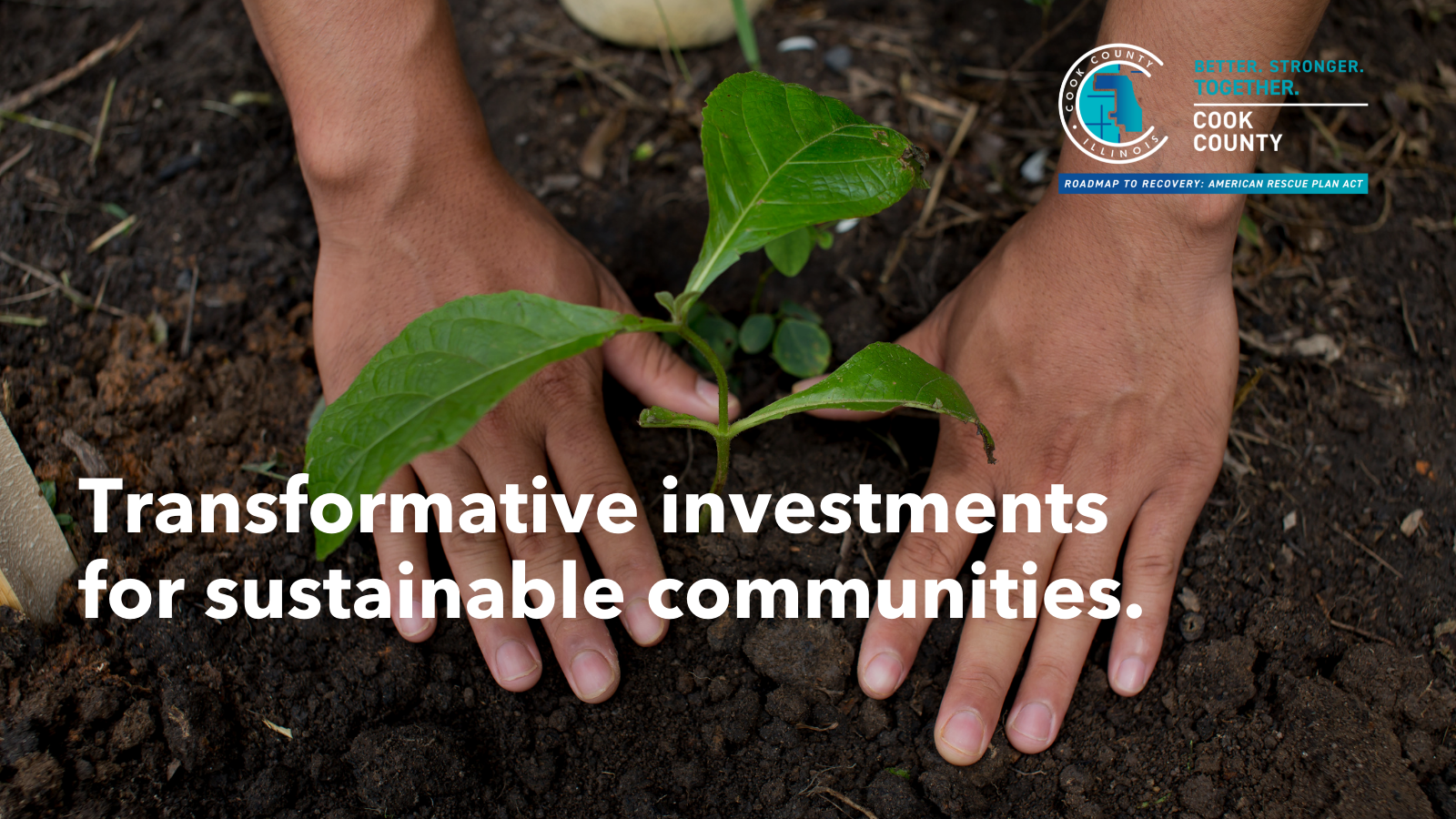 Cook County received over $1 billion through the American Rescue Plan Act (ARPA). The County's robust planning process developed a responsible, comprehensive spending plan to use ARPA one-time resources to support immediate recovery from the effects of COVID-19 and long-term transformative initiatives, and to promote equitable recovery for populations that were historically disinvested or disproportionally impacted by COVID-19.  
Cook County Board President Toni Preckwinkle announced over $100 million in ARPA funding to support a clean environment for all and fight climate change. These projects are found throughout the County's bureaus and departments, reflecting President Preckwinkle's commitment to Sustainable Communities as one of the six pillars of her Policy Roadmap. Examples include the Bureau of Economic Development's project to replace dangerous lead water service lines, the Department of Transportation and Highway's partnership with the Metropolitan Water Reclamation District to reduce flooding, and the Forest Preserves' acquisition of land in underserved areas. 
The Department of Environment and Sustainability's ARPA projects include: 
BRITE - Businesses Reducing Impact on the Environment Fund 

The Businesses Reducing Impact on the Environment (BRITE) Fund supports pollution prevention assessments, recommendations and a grant pool for commercial, industrial and institutional facilities. Our focus is toxics and pollution reduction, renewable energy, energy as well as water efficiency and waste reduction projects at facilities within environmental justice, minority and under-resourced communities. 

Brownfield remediation for neighborhood revitalization 

Brownfield sites are underutilized or vacant sites that have real or perceived environmental issues that deter their redevelopment. The County's Department of Environment and Sustainability (DES) investigates brownfield sites, develops remediation/reuse alternatives and conducts or provides funding for the remediation of sites to redevelop and return them to productive use.   

Electric vehicle charging infrastructure for charging station deserts 

This initiative aims to increase access to public electric vehicle (EV) charging stations by installing public charging stations. This project will focus on charging desert locations in under-resourced communities, primarily in the south and west suburbs. The initiative will be community driven, increase access for residents in multi-family homes and greatly increase the regional charging network. 

Healthy homes, water conservation and deep energy retrofits for residential properties 

The Cook County Department of Public Health (CCDPH) currently provides free lead remediation and limited upgrades that address other health risks related to home toxins and indoor air quality at residences of qualifying families. DES and the Bureau of Economic Development will partner with CCDPH to provide extended Healthy Homes evaluations and upgrades, conduct water and energy audits and complete necessary upgrades and retrofits to deliver the greatest cost savings and health improvements at these residences.

Rain Ready Green Infrastructure Plan implementation for Calumet area municipalities 

This project will implement green infrastructure projects already identified through a Rain Ready Plan for Blue Island, Calumet City, Calumet Park, Dolton, Riverdale and Robbins, which have a history of disinvestment and flooding. DES will partner with community leaders to put these six communities on a path towards greater resilience by improving stormwater management through green infrastructure and sustainable economic development.  

Residential renewable energy to better serve lower income households 

DES will make renewable energy installations more affordable by offering financial support to residents who may not have the up-front capital to pay for installations.   

Resilience hubs to better serve communities in disaster and non-disaster times 

DES and the Department of Emergency Management and Regional Security will work through a bottom-up approach with south suburban communities to create three Resilience Hubs. Resilience Hubs are existing physical facilities that provide day-to-day services to address chronic community stressors and provide support during disaster events. These hubs address building emergency functions, capacity and local power and leadership.   

Climate resiliency planning for local communities 

Together with partners, DES will identify up to five environmental justice communities that want to develop Climate Resiliency Plans, but need staff or funding to do so, and support them in generating actionable goals that promote resiliency. After creating Resiliency Plans, participating communities will receive funding to support related projects such as green infrastructure, tree planting, job training, and maintenance in each community. 

South suburban household hazardous waste facility and outreach collection events 

The south suburbs have no facility for residents to property dispose household hazardous waste, which can cause serious health and environmental issues, and negatively impact a region with historically high pollution and open dumping issues. The facility will also serve as a consolidation location for satellite collection events. 

Center for Hard to Recycle Materials (CHaRM Center) at South Suburban College 

Cook County has partnered with South Suburban College to create the CHaRM Center. This is a permanent recycling drop-off facility available to Cook County residents that helps divert millions of pounds of waste and other hard-to-recycle items from regional landfills and water systems.Residents are able to dispose of household recyclable materials, electronic waste, Styrofoam, clothes and textiles, small furniture items, and personal healthcare equipment. More information about materials accepted at the CHaRM Center can be found here. 

Urban farming gap analysis 

South suburban Cook County contains many food deserts, or areas where it's difficult to buy affordable or good-quality fresh food. Cook County will conduct a gap analysis study on urban farming in the suburbs, to develop a pathway for more comprehensive implementation in the region and recommendations on ways to best allocate future funding.  
Email environment@cookcountyil.gov with any questions about the above initiatives.  
For Procurement opportunities related to these projects, visit Procurement's website here. 
For more Cook County ARPA information, visit the Engage Cook County website. 
Location Title
Main Office
Location Hours
Wednesday:
8:30 am-4:30 pm
Thursday:
8:30 am-4:30 pm