Fair Transit South Cook
Service Information

Fair Transit South Cook Second-Year Report
Fair Transit South Cook released findings from the second year of the pilot program. Read the Fair Transit South Cook report to learn about the results.  
Findings within the report include:
The ME and RI lines continue to recover ridership faster than the other Metra lines, although by a smaller margin than the first year of the program.

An increase in number of riders coming from low-income fare zones relative to 2021.

On both ME/RI and Pace Route 352 Halsted, the majority of riders are using the program to get to work, although school and recreational/social trips make up a significant number as well.

Many riders would have driven if not for reduced fares on the ME and RI lines, which helped decrease pollution and congestion.

Pace Route 352 Halsted ridership held steady.
PROJECT OVERVIEW
The Cook County Department of Transportation and Highways (DoTH), under the leadership of President Toni Preckwinkle, has established a partnership with Metra and Pace Suburban Bus to launch Fair Transit South Cook.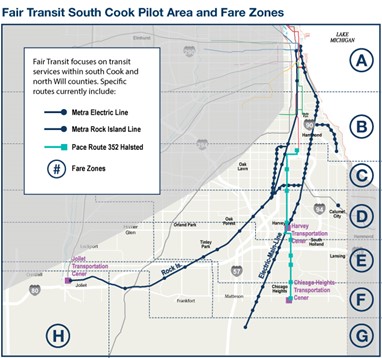 The three-year pilot launched on January 4, 2021 and offers up to a 50% fare reduction on Metra's Electric and Rock Island lines as well as increased service on Pace Route 352 Halsted. The program seeks to benefit commuters in the County's south suburbs and on the south side of Chicago. 
Fair Transit at a glance:
Up to 50% off fares on Metra's Electric and Rock Island lines (savings is dependent on the Metra stop location).
Catch the Pace Route 352 Halsted bus every 10 minutes.
Anyone riding transit in the pilot area may take advantage of these initiatives.
View the increased service schedule for Pace Route 352 Halsted. 
View the reduced fare table for the Metra Electric and Rock Island lines.
Fair Transit Testimonial Video
The testimonial video is also on Cook County's YouTube channel: https://youtu.be/LXgD_a2LXgo