Forensic Pathology Fellowship Program
Forensic Pathology Fellowship Program
Service Information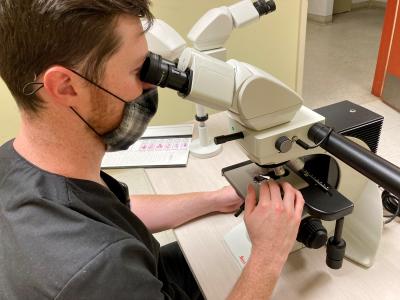 The Cook County Medical Examiner's Office (MEO) accepts three fellows into its one-year Forensic Pathology Fellowship Program. The Office is fully accredited by the Accreditation Council for Graduate Medical Education and is participating in the National Association of Medical Examiners sponsored Forensic Pathology Fellowship Match for the 2025-2026 academic year.
Fellowship positions will be posted on the week of October 9 and can be found on the County's Career Opportunities page. The deadline to apply will be the week of November 7.
The Office immerses its trainees in the practice of forensic pathology. The MEO serves a population of approximately 5.2 million people, which includes the City of Chicago and surrounding suburbs.
The core of the fellow's training includes performing progressively more complex autopsies under the supervision of a diverse group of faculty pathologists. In-house photography, histology and radiology allows for a thorough examination and investigation of cases, including access to computerized tomography and fluoroscopy. MEO pathologists come from a variety of training programs outside Cook County including areas such as Baltimore, Houston, Miami-Dade and Albuquerque.
The fellow's case work is augmented by regular journal clubs and the MEO's robust faculty lecture series, which includes week-long seminars. In addition to the didactic lectures, fellows attend biweekly forensic histology slide conferences. Daily rounds and consensus conferences with the entire team of pathologists offer teaching opportunities on all cases handled by the MEO.  
A rotation at the Illinois State Crime Laboratory helps teach fellows how trace evidence, ballistics and other areas of forensic science fit into the larger scope of determining cause and manner of death. Consultants in forensic anthropology, forensic odontology, radiology, neuropathology and cardiovascular pathology are readily available and provide additional learning opportunities. Throughout the year, fellows can observe courtroom testimony by faculty pathologists and may occasionally testify as an expert witness in selected cases on behalf of pathologists who have retired or relocated to other jurisdictions.
The Forensic Pathology Fellowship Program also requires fellows to prepare and submit an abstract for presentation at an annual forensic meeting (e.g. American Academy of Forensic Sciences or National Association of Medical Examiners) and write a paper suitable for publication related to their project. Residents and medical students rotating with the Office also present teaching opportunities for fellows if interested. The fellowship provides a busy year of growth. Supporting the mental health and well-being of our fellows is a top priority of the Office and is bolstered through regular wellness activities throughout the year.
Fellows who complete the MEO's Forensic Pathology Fellowship Program will have handled a diverse caseload over the year, making them exceptional candidates to work as staff forensic pathologists at any medical examiner or coroner's office in the United States.
Applicants need to have board eligibility in at least Anatomic Pathology and must meet one of the following requirements:
Be a graduate of an accredited medical school in the United States or Canada.

Be a graduate of a college of osteopathic medicine in the United States, accredited by the Commission on Osteopathic College Accreditation.

Be a graduate of a medical school outside of the United States and Canada who possesses a currently valid certification from the Educational Commission for Foreign Medical Graduates, or who has received a full and unrestricted license to practice in a United States licensing jurisdiction.
Fellowship positions are posted online in October. Apply for available fellowship positions by visiting the Career Opportunities page.
The Cook County Medical Examiner's Office sponsors international visas.
More than 10,000 deaths are reported to the Medical Examiner's Office annually. Of these, around 7,000 are accepted for further investigation. The Office has toxicology, photography, histology and radiology support. It is located close to the Illinois State Crime Laboratory.