Rabies Prevention
Service Information
The Cook County Department of Animal and Rabies Control wants you to understand the dangers rabies can pose and take precautions to protect yourself and your pets.
Rabies is always fatal to unvaccinated pets. It is a preventable virus that causes inflammation of the brain in mammals. Rabies is transmitted through saliva and spreads when an infected animal scratches or bites another animal or human.
The incubation period for rabies is usually one to three months. It is important to seek medical treatment after a bite from an unknown animal because once symptoms appear, the disease is almost always fatal. Symptoms of rabies may include: an extreme or irrational fear of water, drooling, excessive salivation, dizziness, fatigue, fever, loss of appetite, delirium, fear, hallucinations, nausea, vomiting, muscle spasms, paralysis, sensitivity to light and aggression.
Rabies in dogs can be seen in two forms – furious and somnolent. In the furious form dogs are very aggressive and snap at anything around them. In the somnolent form, dogs are weak and unaware. Cats always show the furious form of the disease. Skunks and raccoons often show symptoms that are non-specific. This is why you should avoid any "sick" acting wildlife and notify authorities.
In the United States, rabies is most commonly transmitted by bats. But it is important to note that most bats are not infected with rabies. In fact, only about 6% of weak or sick bats captured by animal control officials in the U.S. test positive for the rabies virus, according to the Centers for Disease Control and Prevention. Other common carriers of rabies include skunks, raccoons and foxes.
The Cook County Department of Animal and Rabies Control reminds residents to make sure pets are current on rabies and all other vaccines. It is important to vaccinate both dogs and cats. The department hosts low-cost rabies clinics around Cook County to ensure that residents have access to life-saving vaccinations for their pets. To find a clinic near you, click here.
The department also urges residents not to handle any wild animals. If you find a sick or dead bat, contact your local animal control or police department.
An average of approximately 25 rabid bats are found in Cook County each year.
Click the image below to view an interactive map where bats who tested positive for rabies were found in Cook County.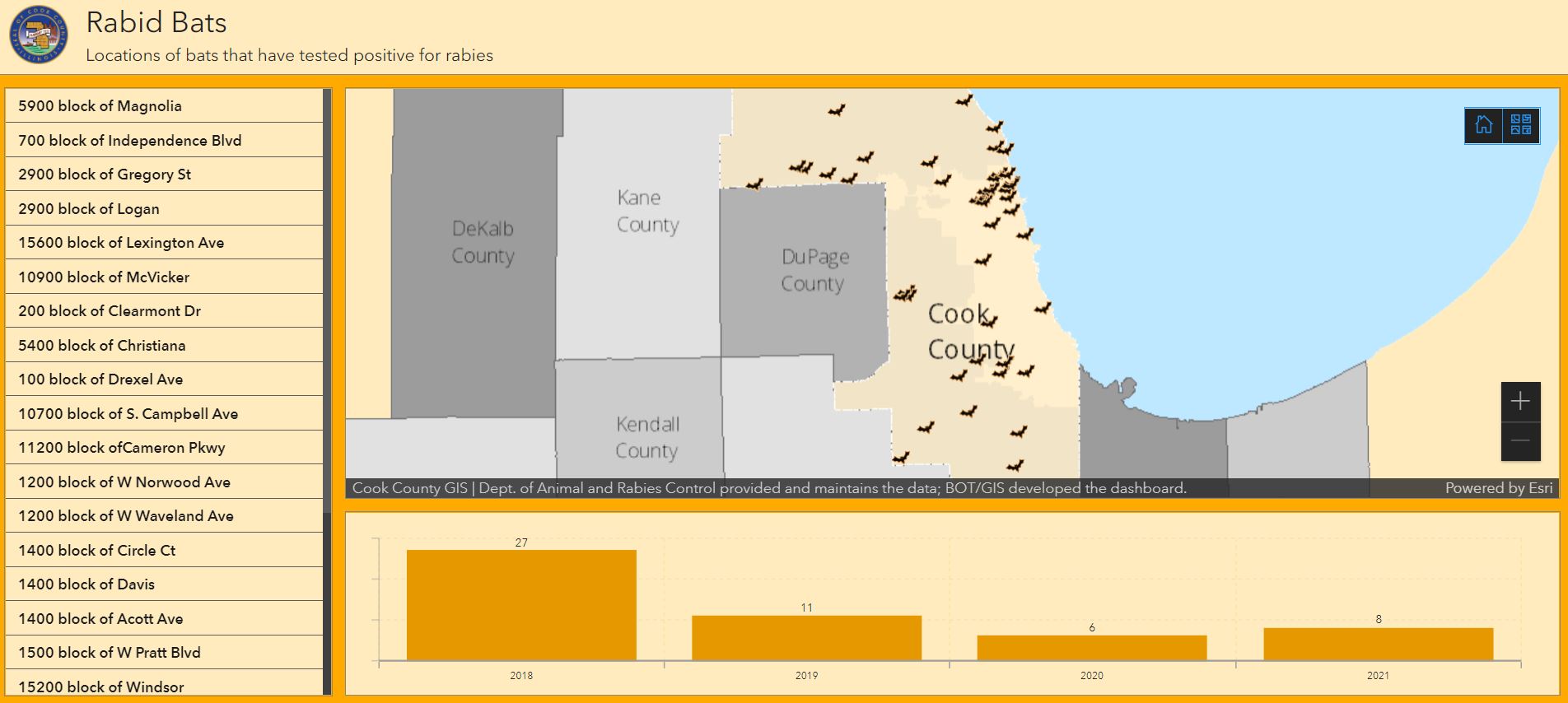 2023
10/1/2023 | 1200 block of Cherry St., Winnetka, IL 
9/11/2023 | 800 block of Grove St., Glencoe, IL 
8/30/2023 | 10300 block of Trumbull Ave, Chicago, IL
8/22/2023 | 5600 block of W. Ainslie St., Chicago, IL 
8/21/2023 | 3600 block of West 116th Pl., Alsip, IL
7/16/2023 | 1400 block of East Ironwood, Mount Prospect, IL 
6/2/2023 | 1700 N. Lotus, Chicago, IL
5/22/2023 | 11900 block of Ford Rd., Palos Park, IL 
5/12/2023 | 6200 block of North Moody Ave., Chicago, IL
2022
9/9/2022 | 1100 block of South Plum Tree, Palatine, IL 
9/2/2022 | 12900 block of Archer Ave., Lemont, IL 
8/29/2022 | 7600 block of 124th Pl., Palos Heights, IL 
8/25/2022 | 2800 block of West 21st Pl., Chicago, IL
8/19/2022 | 4000 block of Central Ave., Western Springs, IL 
8/5/2022 | 300 block of East Wood St., Palatine, IL 
7/29/2022 | 14600 block of Lavergne Ave., Midlothian, IL
6/28/2022 | 0-100 block of Edgewood Ave., La Grange, IL 
6/27/2022 | 200 block of 6th St., La Grange, IL 
6/2/2022 | 0-100 block of Elder Ln., La Grange, IL 
6/1/2022 | 5700 block of Catherine St., Countryside, IL
2021
9/30/21 | 15600 block of Lexington Ave., Harvey, IL
9/7/21 | 700 block of Independence Blvd, Chicago, IL
9/5/21 | 5400 block of Christiana, Chicago, Il.
9/1/21 | 2900 block of Logan, Chicago, IL
8/29/21 | 5900 block of Magnolia, Chicago, IL
8/9/21 | 10900 block of McVicker, Chicago Ridge, IL
6/24/21 | 200 block of Clearmont Drive, Elk Grove Village, IL
5/12/21 | 2900 block of Gregory Street, Chicago, IL
2020
9/9/20 | 6200 block of Nordica, Chicago, IL
9/1/20 | 15200 block of Windsor, Orland Park, IL
8/27/20 | 4800 block of Lawndale, Chicago, IL
8/13/20 | 1400 block of Scott Ave, Winnetka, IL
7/7/20 | 5300 block of Waterbury Court in Crestwood, IL
6/13/20 | 500 block of Edgemont Lane in Park Ridge, IL
2019
6/4/19 | 2200 block of Pratt Blvd., Chicago, IL 
7/16/19 | 4700 block Karlov Ave., Chicago, IL
7/25/19 | 900 block of Wilmette Rd., Palatine, IL
8/14/19 | 600 block of North Stone, La Grange Park, IL 
8/23/19 | 400 block of Giles Court, Bartlett, IL
8/24/19 | 500 block of Washington, Wilmette, IL 
9/10/19 | 6500 block of Campbell, Chicago, IL
9/11/19 | 9900 to 10000 block of South Hoyne, Chicago, IL
9/11/19 | 1400 block of Davis, Evanston, IL
9/14/19 | 200 block of Greenwood, Evanston, IL
10/9/19 | 11200 block of Cameron Parkway, Orland Park, IL