Office of Bureau Chief Economic Development
Office of Bureau Chief Economic Development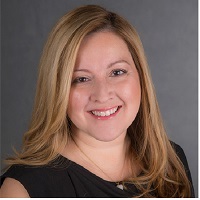 Xochitl Flores, Bureau Chief
Xochitl Flores is the Bureau Chief of Economic Development for Cook County. In this role, Flores oversees the activities of the three departments within the Bureau, which include the Department of Planning and Development, Building and Zoning, and the Zoning Board of Appeals.  She is responsible for leading the work of the Bureau, collaborating with the seven counties of northeastern Illinois and the City of Chicago to develop and implement initiatives to grow the regional economy.
An innovative and talented public servant, Flores began her tenure with Cook County as the Assistant Deputy Bureau Chief of Economic Development, in 2011.  In her role, she worked tirelessly to advance President Preckwinkle's plan to ensure an exponential impact on economic development. Demonstrating proven results, Flores quickly advanced to become Deputy Bureau Chief of Economic Development, where she assisted in the design, preparation and implementation of strategic economic development initiatives including the President's Council of Economic Advisors and the convening of Northeastern Illinois county chairs in support of economic development initiatives.
Flores has extensive experience in government, private, and non-profit sectors.  Before joining the Cook County administration, she served as the Assistant Commissioner for the City of Chicago's Departments of Housing and Economic Development and the Department of Planning and Development.  Additionally, she served as Chief of Staff in the 1st Ward Aldermanic Office.  Her private sector experience as a consultant for a variety of clients including Fortune 500 companies and large public institutions has given her unique insight to establish effective systems and processes.  
Always demonstrating a solid work ethic and sound leadership skills, she is an alumnus of 2015 Civic Leadership Academy, a University of Chicago program focused on interdisciplinary leadership development for emerging and high-potential leaders playing a vital role in contributing to the creation of healthy and vibrant communities. Flores received a Bachelor of Science in Industrial Engineering from Northwestern University. She resides in Chicago's Beverly neighborhood with her husband and three sons.
 
About our Bureau
Early in Spring 2020, the Civic Consulting Alliance sat down with Xochitl Flores, Chief of the Cook County Bureau of Economic Development.  From October 2019 to January 2020, Civic Consulting Alliance collaborated with Chief Flores and her team to revamp the Bureau's mission and vision. We asked her to reflect upon the project and its impact on the Bureau—whose work is even more critical now as it prepares for a strong and equitable recovery from the COVID-19 crisis.  Read full interview. 
The Cook County Office of Economic Development (OED) within the Bureau of Economic Development provides the overall strategic management of the departments of Planning and Development, Building and Zoning and Zoning Board of Appeals Appeals.In addition, the OED drives the County's regional collaboration efforts with a strategic focus on  sector-driven and place-based strategies to further racial equity and inclusion and leverage additional public and private resources.
Departments
BED has three departments within its umbrella: 
Location Title
Main Office
Location Hours
Wednesday:
9:00 am-5:00 pm
Thursday:
9:00 am-5:00 pm
Agency Head
Xochitl Flores, Bureau Chief