Sustainability
Service Information
Cook County is a world-class model of sustainability. The Department of Environment and Sustainability works to boost sustainability practices throughout County Government and partners with local governments, nonprofits and businesses to create viable communities within the County.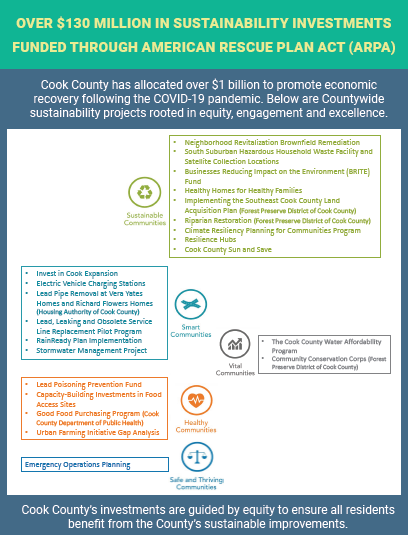 Annual Sustainability Report
Cook County issues a sustainability report annually that showcases the County's efforts to support healthy and resilient communities that thrive economically, socially and environmentally. The report looks at both what the County has done to make its internal operations more sustainable as well community initiatives.
Read the 2022 Annual Sustainability Report. 
Highlights include:
Investments over $130 million in sustainability initiatives funded through the American Rescue Plan Act (ARPA).
Cook County buildings reduced greenhouse gas emissions by 9% from 2020 to 2021.
The Fair Transit South Cook pilot program completed its second year providing accessible, affordable and equitable public transportation while reducing greenhouse gas emissions.
Food desert ordinance passed.
Finalizing an off-site power purchase agreement to reduce greenhouse gas emissions.
Previous reports can be found to the right under the downloads section.