Mission
The Bureau of Technology (BOT) plans, develops and maintains enterprise technology services according to its guiding principles: lifecycle management, cloud-first, shared-first, sustainability, transparency, continuity, Countywide standardization and reuse before buy and buy before build. BOT provides cost-effective and easy-to-use services for residents and County employees.
Mandates and Key Activities
Deliver and manage Countywide shared technology resources
Direct Countywide technology policy and the establishment of Countywide technology standards, including guidance under the County's Open Government Ordinance (Ordinance 14-0076)
Review all technology procurements to discourage duplicative spending, encourage efficient returns on investment, and ensure compliance with County technology standards and policies (Ordinance 14-1232)
Collaborate with the Information Security Working Group to establish and report on the Information Security Framework, as well as take appropriate actions to protect the County's network against security threats (Ordinance 14-1481)
Facilitate the integration of an automated Cook County Criminal Justice System and update the Board on progress toward such goal (Resolution 13-2002)
Review all Software and Technology Hardware Asset Inventories and prepare a consolidated report and strategic document annually for submission to the Board (Ordinance No. 16-3977).
Provide access to County GIS data in accordance with County ordinance (Chapter 2, Article IV, Division 3, Subdivision II, §2-220).
About Technology at Cook County
Cook County is the second-largest county in the country and is structured somewhat differently from many other counties. Residents vote for a 17-member Board of Commissioners, an at-large Board President, an Assessor, a Clerk of the Court, a County Clerk, 250+ Judges, a Sheriff, a State's Attorney, a three-member Board of Review and a Treasurer. The County also has other separate offices, such as the Health and Hospitals System, the Forest Preserve District and the Public Defender, which are under the President but have separate IT.
All County government offices share Wide Area Network (WAN), telecom, data centers and multiple enterprise contracts. The Bureau of Technology (BOT) is the central office that handles enterprise technology. BOT is headed by a Chief Information Officer (CIO) who must concur on all technology procurements countywide.
BOT History
1997 — Bureau of Information Technology and Automation ("BITA") was formed in order to provide "users with integrated and automated systems and services that could assist them in performing their daily tasks more efficiently." BITA initially consolidated Geographic Information Systems ("GIS"), Management Information Systems ("MIS"), and Office Automation ("OA") functions. Shortly thereafter, Central Services ("CS") was consolidated into BITA "due to the synergies involved regarding telecommunications and the incoming Wide Area Network (WAN)."
1998 — The newly consolidated Enterprise GIS Dept. issues an RFP to develop a comprehensive repository of mapping files and data.
2002 — Cook County Board of Commissioners passes an ordinance creating a GIS Fund. The Fund is supplied exclusively by document recording fees.
2002 — Cook County Board of Commissioners formally establishes the Cook County Integrated Criminal Justice Information Systems (CCICJIS) committee, charging the committee with the creation of an integrated criminal justice strategic plan.
2008 — BITA rebranded as Bureau of Technology
2008 — Bureau of Technology certified by Illinois Commerce Commission to provide telecommunications interexchange carrier services ("IXC") and local exchange carrier services ("LEC"), allowing us to put fiber-optic cable in the ground to build the County's 10-gig broadband backbone.
2011 — Cook County Board of Commissioners passes Open Government ordinance, requiring County agencies to make open data available to the public. BOT launches County Open Data Catalog to house County data in an open and freely accessible format to the public.
2013 — Cook County Board of Commissioners passes resolution requiring the BOT Chief Information Officer to pursue the development of an automated, integrated criminal justice information system.
2014 — Cook County Board of Commissioners passes ordinance requiring BOT to concur on all technology-related procurements.
2015 — Cook County Board of Commissioners passes ordinance requiring the County Board President to appoint a Chief Information Officer with the advice and consent of Board Commissioners.
2016 — Cook County Board of Commissioners passes ordinance requiring BOT to analyze and report on annual software and hardware asset inventory submissions from all County agencies.
2017 — BOT completed the biometric Time and Attendance system rollout for all offices across the County. BOT completed the first data exchange on the Countywide Integrated Justice Enterprise Service Bus (ESB) system and rolled out the Integrated Tax Processing System. BOT also began work on the Countywide Voice Over Internet (VOIP) communications system.
2018 – Cook County Board of Commissioners passes Information Technology Consolidation Ordinance, tasking the Chief Information Officer with studying the viability of consolidating data center and other IT functions, creating a consolidated help desk, and encouraging the development of shared IT policies and standards.
The BOT of today is made up of several different teams whose work is very closely related and integrated. BOT is now more effectively providing reliable public-facing and back-office services.
Location Title
Headquarters
Location Hours
Wednesday:
8:00 am-5:00 pm
Thursday:
8:00 am-5:00 pm
Image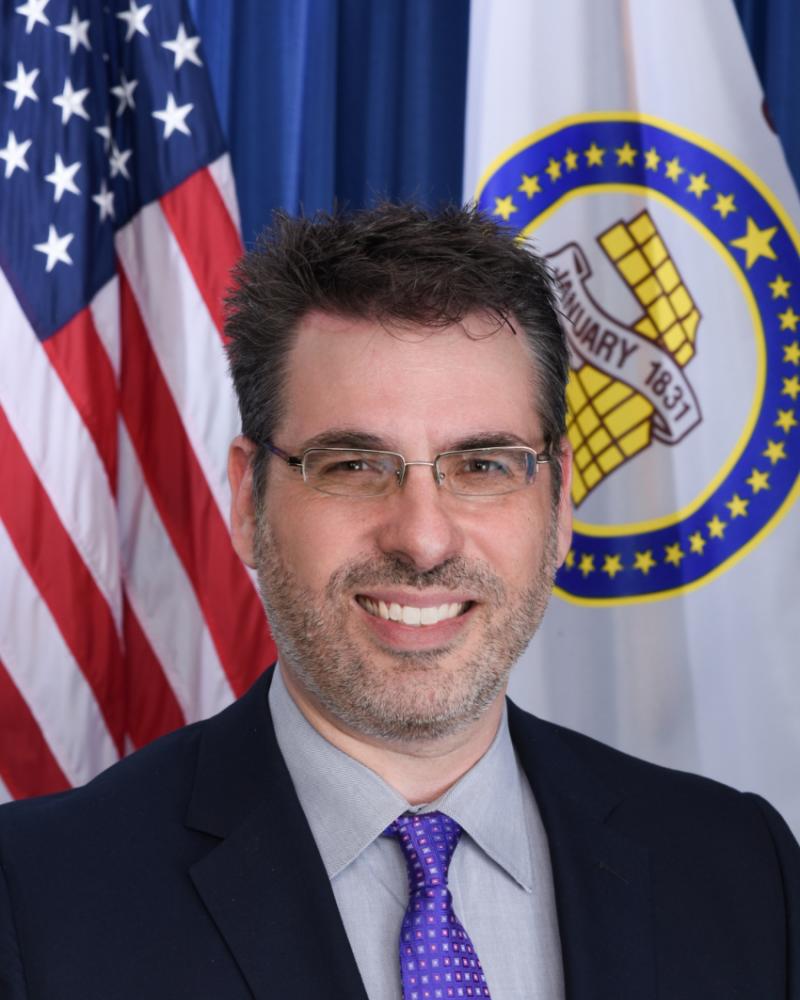 Chief Information Officer
Tom Lynch serves as the Chief Information Officer and leads the Bureau of Technology, which is an Office Under the County Board President. Lynch leads the entire portfolio of Cook County's application projects in alignment with the County's technology strategy.