Racial Equity
Image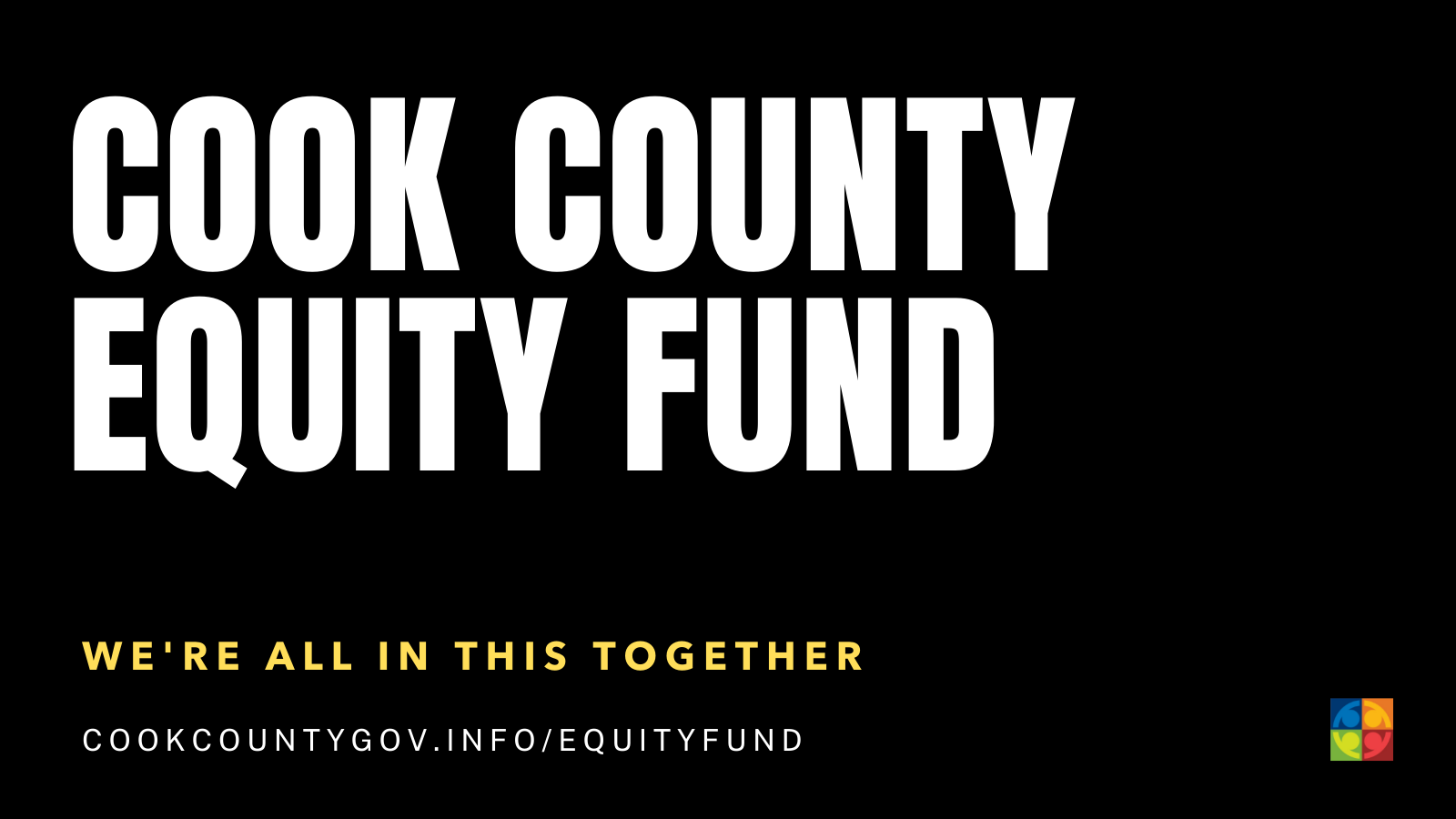 Service Information
2021 Cook County Equity Fund Report
Released on April 7, 2022, the Cook County Equity Fund Report was created to address historic and continued disinvestment and inequities that have negatively impacted Black, Latine and other marginalized residents. Under the guidance of nearly 90 community partners, this historic Cook County document highlights the Equity Fund's goals, vision and purpose, outlines and memorializes the County's financial equity commitments, and includes the Cook County Equity Fund Taskforce's recommendations on actions Cook County government should take to address structural barriers that prevent the meaningful advancement of equity across Cook County.
To view or download the full report in English, click here.
To view or download the full report en Español, click here.
To view the press release, click here.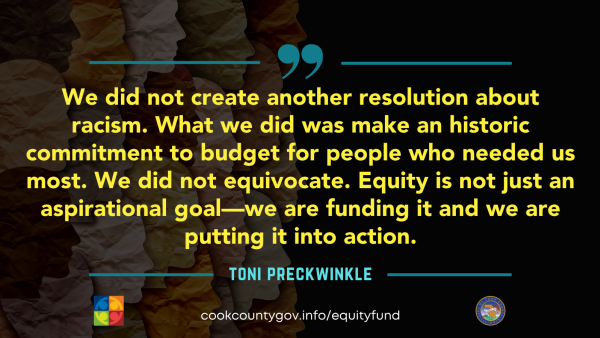 ---
---
---
SAVE THE DATE: Racial Equity Week 2022, September 12-16 
---
---
---
Racial Equity Week 2021
The third annual Cook County Racial Equity Week was held September 13 – 17 in 2021. This year's theme reflected on three words: "Imagine. Intersect. Act." Cook County Offices Under the President programmed a week of events that probed the audience to use their imaginations to understand justice and equity issues at the intersections of identities and encourage all to take action.
"We are proud to announce our third annual Racial Equity Week, furthering Cook County's commitment to advancing racial equity through policy and practice," said President Preckwinkle. "Although I consider every week in Cook County to be racial equity week—we pause each September to shed a brighter light on this important work through engaging and thought-provoking programming that will allow us have deep discussions and explore new facets of equity in government."
In September 2020, Cook County held its second Racial Equity Week to delve deeper into the need to advance racial equity, especially in light of the COVID-19 pandemic. Cook County held a series of interactive virtual events with community leaders, artists and the public. Highlights included a town hall on environmental justice, the world premiere of The Folded Map Film by local artist Tonika Johnson, a roundtable discussion on transportation equity in light of the pandemic, and a live storytelling event curated by Ada Cheng.
Links for all recorded events have been provided in the event lineup below. You can also watch the events on this YouTube playlist.
Event Lineup
Monday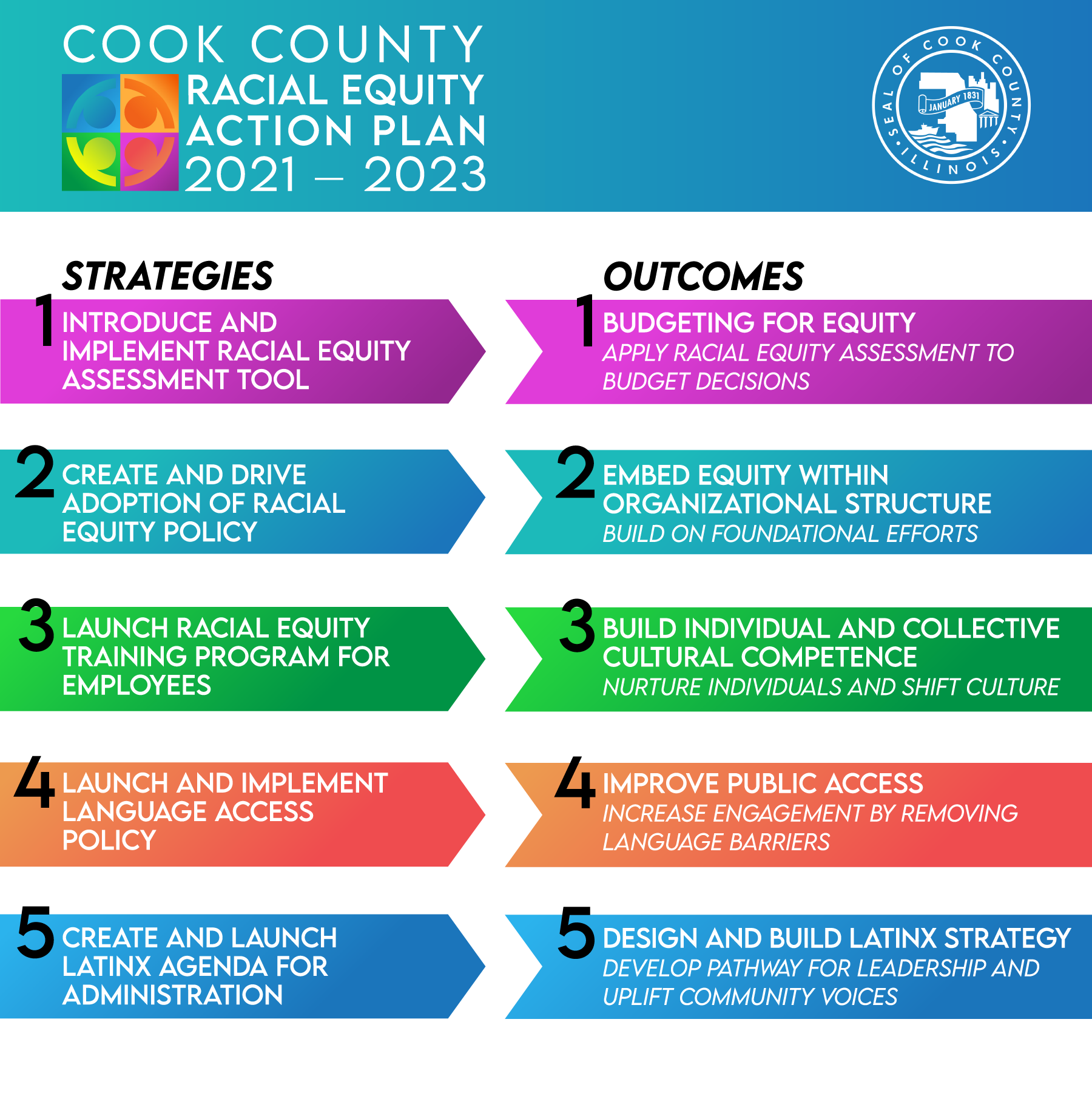 Kickoff Press Conference. President Preckwinkle was joined by Cook County Commissioners and senior staff to announce a new Racial Equity Policy and Racial Equity Action Plan. Download an overview of the plan. Monday, September 13, 1 p.m. Watch on YouTube. 
Virtual Screenings with the Queer Women of Color Media Arts Project (QWOCMAP). Cook County provided two virtual programs to the public curated by QWOCMAP. These programs of short documentary films delved into the specificity of identity and experience for Black Indigenous People of Color (BIPOC) individuals in the LGBTQ+ community. Learn more about QWOCMAP at qwocmap.org.
Tuesday
The Next Generation of Latinx Leadership: Hispanic Heritage Month Kickoff Event. This panel discussion moderated by the Latino Policy Forum and held on Facebook Live featured young government, nonprofit and civic Latinx leaders who discussed their strengths, goals, and strategies for bringing more Latinx leadership into civic spaces. Tuesday, September 14, 10 a.m. CT. Virtual via Facebook Live at facebook.com/PresidentPreckwinkle. Watch on Youtube.
Press conference with Public Defender and advocates celebrating the passage of HB 2790. President Preckwinkle was joined by Lt. Gov. Juliana Stratton, Rep. Jennifer Gong-Gershowitz, Sen. Omar Aquino, Cook County Public Defender Sharone Mitchell, Cook County Commissioners and advocates to celebrate the signing of HB 2790, legislation that provides public defenders in immigration court. Tuesday, September 14, 12 p.m. 101 W. Congress. Virtual via Facebook Live at Facebook.com/PresidentPreckwinkle. Watch on YouTube.
 
Wednesday
Racial Equity Table in Daley Plaza at Cook County Preparedness Fair. Members of the Racial Equity Leadership Council (RELC) tabled in Daley Plaza during Cook County's Annual Preparedness Fair. Members of the RELC Core Team were available to talk about our racial equity work, answer questions, and share resources. Wednesday, September 15, 10 a.m. – 2 p.m. 
Queer Women of Color Media Arts Project Moderated Discussion. A 60-minute moderated panel discussion on My Beautiful Resistance: Queer Native, API, and Latinx Films from QWOCMAP with Cook County and filmmakers was held on Wednesday, September 15 at 6pm CT via Zoom. Watch on YouTube.
Thursday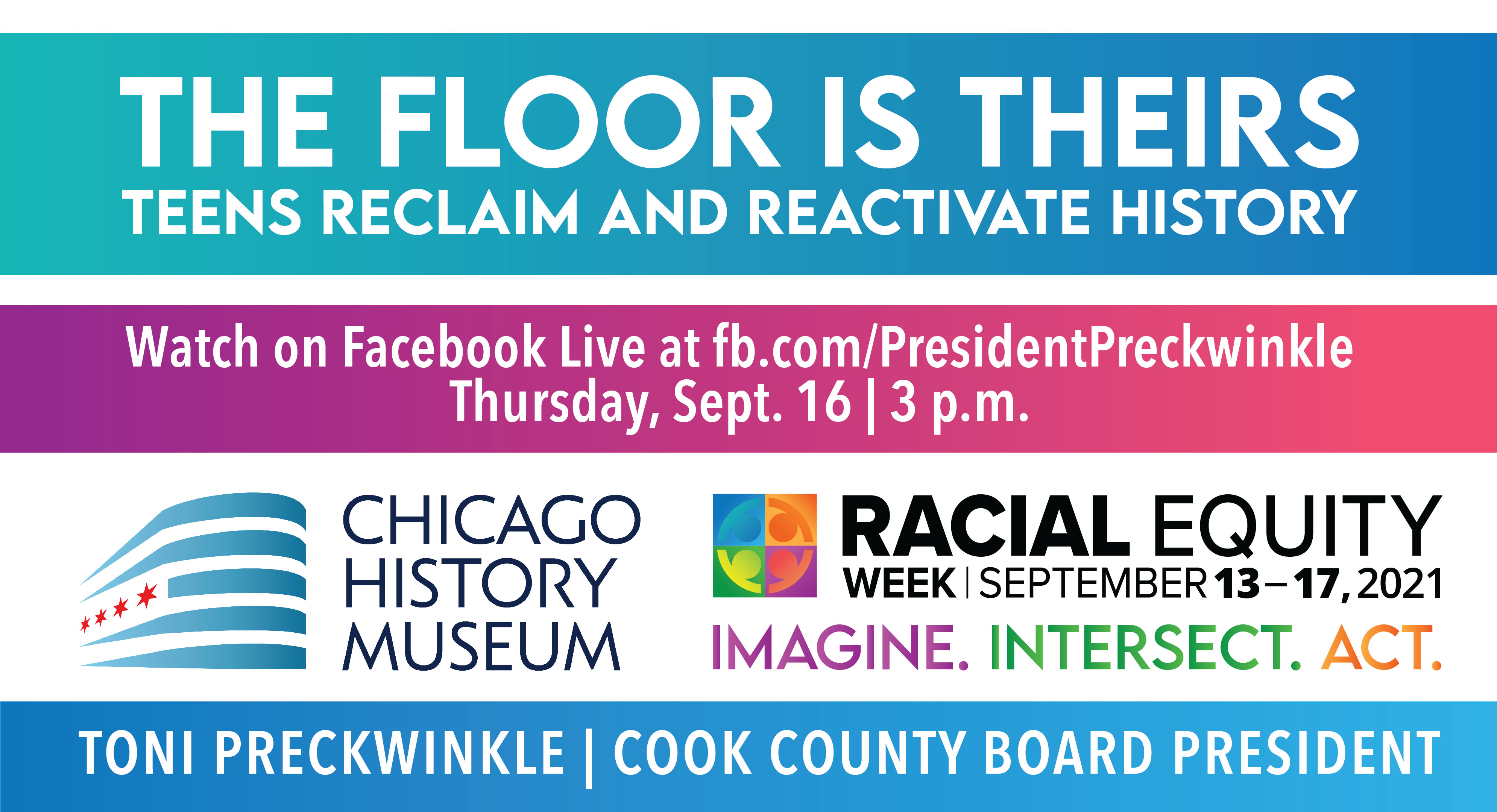 The Floor is Theirs: Teens Reclaim and Reactivate History. Cook County Manager of Archives, Skyla S. Hearn joined Chicago History Museum (CHM) Curator Julius L. Jones, and Director of Education Erica Griffin in a conversation exploring their roles in CHM's recent teen projects that join art with history to amplify overlooked histories and forgotten narratives of Black women in service to community and citizenship during the quest for universal suffrage, to reactivate voided spaces, and challenge key epistemologies of our city's history. Thursday, September 16, 3 pm CT. Virtual via Facebook Live at facebook.com/PresidentPreckwinkle. Watch on YouTube.
Friday
Forest Preserves of Cook County (FPCC) Stewardship Day. President's Office staff joined the Forest Preserves of Cook County (FPCC) and community members for a Stewardship Day. Possum Hollow stewardship days are special as they center the Latinx and BIPOC community and they are led by two Latinx Stewards:  Xochitl Lopez of Friends of the Forest Preserves, and Raquel García-Álvarez of the Forest Preserves of Cook County. Their monthly stewardship days can be led in both English and Spanish. Friday, September 17, 9 a.m. to 11 a.m. Possum Hollow Woods, La Grange Park, IL. In person. Find more volunteer opportunities with the Forest Preserves of Cook County at fpdcc.com/volunteer.
Good Food Purchasing Policy (GFPP) Annual Public Update. Cook County Department of Public Health, Chicago Food Policy Action Council, and members of the Cook County Good Food Task Force discussed Cook County GFPP implementation progress, strategies being taken to ensure racially equitable outcomes, and actions the public can take. Friday, September 17, 10 a.m. to 12 p.m. Virtual via Zoom. 
Courage to Connect! Live Storytelling with Dr. Ada Cheng.  Professor turned storyteller Dr. Ada Cheng curated a series of intersectional and personal narratives by local performers that follow the theme of this year's Racial Equity Week. Friday, September 17, 12 p.m. Virtual via Facebook Live at facebook.com/PresidentPreckwinkle. Watch on YouTube.
 
Throughout the week
Talk With Toni: Racial Equity Week Edition. President Preckwinkle recorded several episodes of Talk With Toni for Racial Equity Week to air throughout the week on the Cook County Cable Channel and be available on demand on the Cook County YouTube Channel. Episodes included a look back at our racial equity work with senior staff, an in-depth interview with Cook County Assessor Kaegi and a special on-location episode at Brave Space Alliance with Founder and Executive Director LaSaia Wade and Associate Executive Director Stephanie Skora. 
Storytime with President Preckwinkle: a storytelling event for children in partnership with Seminary Co-op and 57th Street Books. President Preckwinkle will host storytime for young children that will be broadcast throughout the week on Cook County's Cable Channel. The stories curated by 57th Street Books will convey the theme of Racial Equity Week and spark conversations about racial justice and equity with the next generation. The Seminary Co-op has also shared a curated book list for the week as a resource. Watch on YouTube.
Watch videos from last year's events on the Cook County YouTube Channel.
Diversity and Inclusion Statement
Offices Under the President officially adopted a Diversity and Inclusion Statement during Racial Equity Week 2019:
We believe in the dignity and worth of all people and the strength in the diversity of all perspectives.
Cook County commits to cultivating equity, inclusion and opportunity within County government and the diverse communities it serves—where we celebrate employees, residents and visitors and welcome diversity of perspectives. Empowered by an inclusive workforce, Cook County is dedicated to equity and fairness in governance—in all its forms—to strengthen and serve our communities to the best of our abilities.