The Department of Risk Management is responsible for the cost-effective and customer-focused administration Countywide employee benefits, workers' compensation programs, and general liability programs in accordance with local, state and federal requirements.
View the 2024 Employee Benefits Overview for a comprehensive summary of benefits offered to County employees.
Employee Self Service
Enrollment requires using Employee Self-Service (ESS). Required documentation must be scanned and uploaded to ESS in order to complete enrollment for dependents. For assistance with logging into ESS, employees should contact their agency's Help Desk.
Additional Information
Looking for more information on benefits. Click on one of the buttons below for more information regarding Cook County benefits.
This Spring Newsletter includes:
More ways to Use Your FSA
Know Where to Go to Save Money and Time!
Provide Yourself an Additional Layer of Financial Protection
Make the Most of your Guardian Dental Plan
How Guardian Dental Pre-determination Works
Information on Tax Forms 1095-C & 1095-B
Deferred Compensation Update: Same Plan – Only Better!
Financial Wellness Checklist: Have you done the following?
Spring Bike Rides!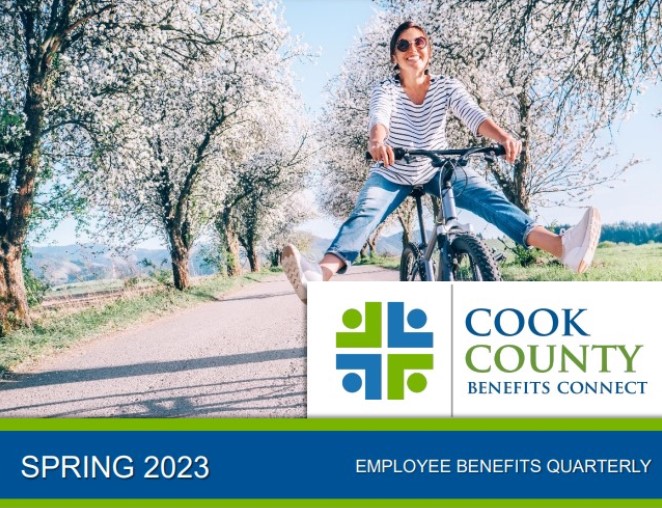 Click Here to Read the Newsletter